How to Transform 1 Piece of Content Into 10 With Ease
Simple content creation tips to boost your brand awareness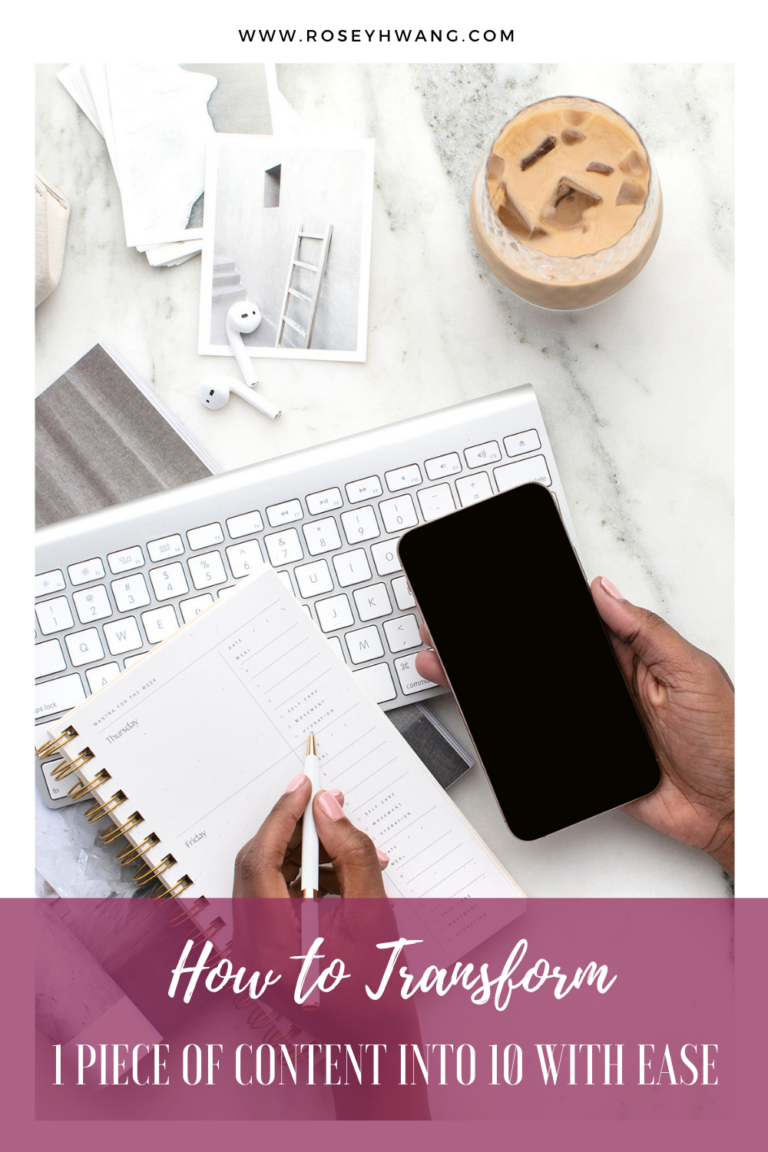 Studies show that people need to see a brand more than 10 times before it leads to sales*. Communicating consistently is key, and valuable content is more important than ever. It's what sets you apart and boosts your visibility and reach.
It seems impossible to churn out amazing content regularly, but it doesn't have to be hard work or take all of your time to put together. These simple strategies are designed to help you take one piece of content and transform it into several pieces so you can create your content calendar with ease.
The best part—you can subtly share your incredible messages in many different ways to increase brand awareness without feeling like you're repeating yourself.
Play with formats
If you have a video message, take the highlights and write them out for a social media caption. If you're already using a captioning tool, you can copy the text straight from the tool.
If you've written a blog, take the important messages and translate them into a short video clip like a reel on Instagram.
Mixing up the formats is not only fun to do, but it's also one of the easiest ways to create multiple pieces of content.
Use graphics
Use a graphic design tool like Canva to create engaging graphics to showcase your message. Keep the messages short, either using text only or using icons with text. The key is to create short and catchy pieces that people will want to save and share with others.
Share in cycles
Don't be afraid to cycle through content either. Chances are, on social media, your message won't reach everyone. So share it again in a few months. DM me for recommendations on the best apps to help you do this with ease.
Expand
Take one big concept for your content, and don't be afraid to expand on it and go into more details on exactly what it is and how it works. For example, if you shared a post with your top five productivity tips, take one tip and share it every week in more detail. Or take an Instagram post and talk about it in your stories.
Tease your content
If you've written a 500-word article, take a snippet and share just enough to leave people wanting to read more.
If you have a video, make it into a series with short clips that you can share throughout the month.
Ask the audience
Ask your followers if they have any questions about your content. This is a great way to engage with them and learn more about what they want to know and what matters to them. It will help you create even more content on the things you're passionate about and serve your followers simultaneously.
Collaborate
Do a live video with a complementing business on the content you have created. You can share different views and get yourself in front of a new audience. It's better if this isn't scripted but instead is a conversation where you share the essential points that establish you as an expert in your field.
Use what you have
If you don't have time to create an infographic or scour the web for the perfect photo, use what you already have.
It boosts your authenticity if you share images from your real life as it relates to your content. If we go back to the productivity example, you could share a photo of you spending time with your family. The photo says so much because, with the tips you're sharing, you're showing how you're able to get things done effectively, so you have more time for the people that matter to you.
Post on all the platforms
Share the same content to different platforms. You may have the same audience on different social media apps, but chances are they won't see all of your posts. Besides, if they do see it a few times, it boosts the chances that they stop scrolling and read your content. Remember, people need to see your message a few times to build brand awareness.
Be spontaneous
Planning takes the pressure off so you can be more spontaneous and feel more at ease. So plan that content and shift it as needed.
Share when you feel passionately inspired or have a big a-ha moment. This is often the best way to share because it comes from within. It's what you want to do instead of what you feel like you have to do.
Let's say your day opens up suddenly, or you wake up feeling inspired, and you find yourself wanting to share more about the content you created, do it.
Similarly, if you wake up and feel like you don't want to share the content you had planned and instead something else that feels more aligned, listen to those nudges. That is your intuition guiding you, and when you share from this place, magic happens because it comes from your inner truth and resonates on a deeper level.
*According to research from the Taylor and Francis Group.
Ready for more captivating content ideas?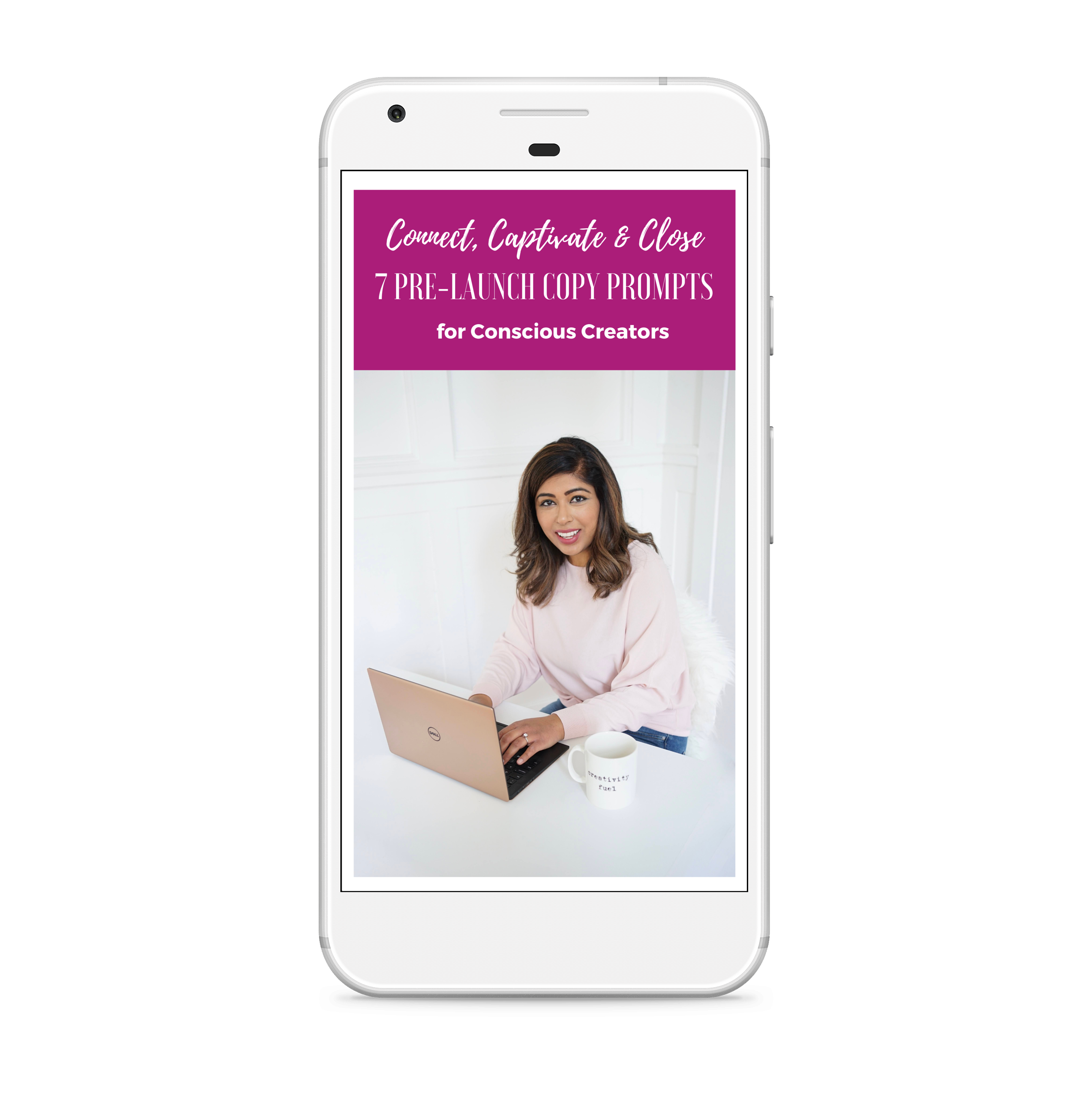 Connect, Captivate & Close
Creative Copy Ideas for Creators
Get access to 7 social media prompts to captivate your ideal client!