4 Simple Steps to Optimize Opt-ins & Landing Pages to Boost Conversions
These steps helped me achieve a 86 percent conversion rate on my last opt-in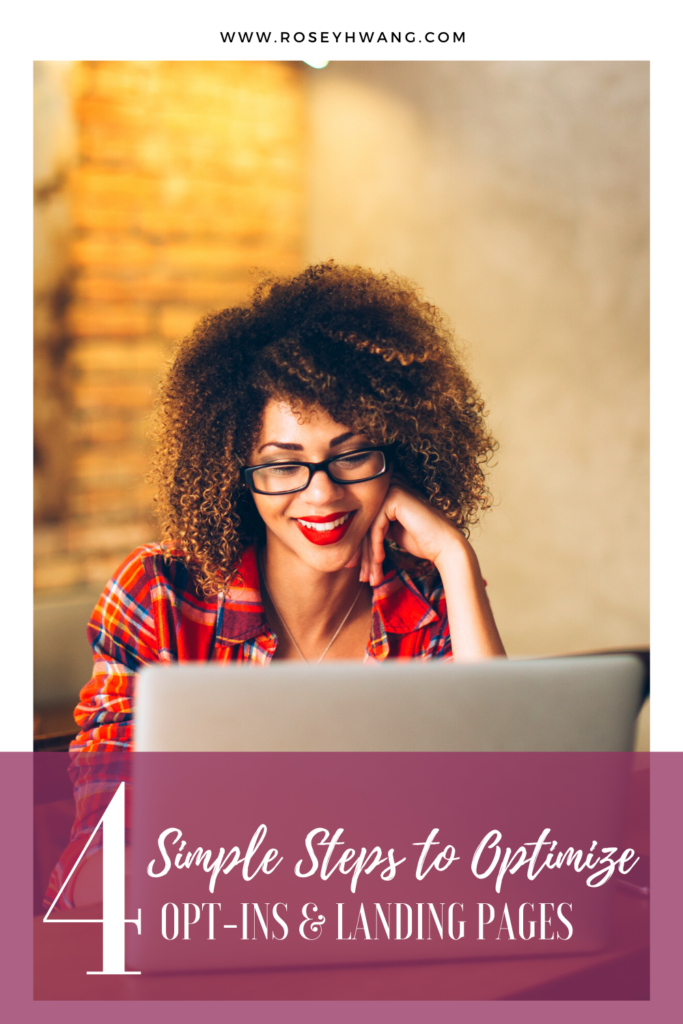 What you do before, during and after creating your opt-in offer is instrumental in the results you'll achieve and the leads you'll attract.
To boost your conversion rates, follow these simple steps.
1. Talk to your ideal clients
Instead of guessing what your ideal clients might need, talk to them directly and ask for their feedback before creating your next opt-in. What are they struggling with? What problem are they desperately searching for solutions for? If they could wave a magic wand and have one thing they desire when it comes to your product or service what would that be?
Often, they'll give you ideas you would never have thought of on your own. Better yet, they'll give you a glimpse of what's going on in their mind as they're making decisions or looking for solutions in their business. This is gold. Listen to everything they say and create an opt-in that's a cross between what they need and your zone of genius.
That's exactly what I did for my opt-in, with an astounding conversion rate of 86%. The industry average is around 2-5%, and, if you're really lucky around 10%.
I reached out to entrepreneurs I would love to work with and let them know I was working on a new copy guide. I asked what they needed support with when it comes to their content. I learned that warming up cold leads before a launch is something they struggle with, and having copy prompts to do that would be so valuable so that's exactly what I created.
2. Create an opt-in so valuable you could charge for it
There's so much content out there right now that you want to make sure that what you're sharing is highly valuable and stands out. So helpful that you could actually charge for it if you wanted to.
Put in the time to create an opt-in that showcases your expertise instead of rushing trying to get something out there. The more useful the information, the more likely someone is to buy from you, so make sure that you have given yourself enough time to create something truly powerful.
When I put together my high-converting guide, I worked on it for a month. Instead of hoping that it would resonate when I finished it, I went back to my ideal clients and asked for their feedback and changed things based on their suggestions.
3. Create a simple landing page
When you're designing your landing page, make sure that it's compelling yet easy to read.
This is not a sales page. It does not need to be fancy. The simpler and cleaner the design, the better.
Have a clear headline with a few bullet points explaining what someone can expect when they download the opt-in. Use one image and a simple form, and that's it.
Make it as easy as possible for people to sign up when they visit your landing page. If it sounds too complicated or confusing, you'll lose that chance to convert.
This is where the services of a skilled copywriter can truly help. They'll help you say less and have more of an impact with the words you use. If writing is not your strength, hire out for support with this.
Check out my high-converting landing page here.
4. Get in front of the right people
It's not enough to create an opt-in and share it on your social media and hope somebody comes across it.
Actively look for opportunities to get in front of the right people.
Here are a few ways to do that:
Collaborate – Find someone with your ideal clients in their audience and do a live video with them talking about what you do.
Send it to your ideal clients directly – Reach out to past clients or to new leads and let them know what you created and how it will help them.
Share in targeted groups – Find Facebook groups where your ideal clients are hanging out and share your opt-in there. Focus on the benefits and the problem you solve as you create your post.
Taking the time upfront to create a valuable, useful and knowledge-packed opt-in will pay off in the long run.
I now invite you to book a free, creative consultation. This a chance for you to bring your opt-in, and your landing page and get customized feedback to boost conversions.
Ready to create copy that sells?